Your Team - Your Voice - Your Show
SOUND OFF !!!
Tune in every Sunday from 7AM - 8AM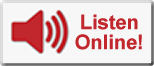 Join your Host J.T. every

Sunday

(LIVE 7 - 8

a.m

.) as he "Sounds OFF" on the hottest topics in the world of sports. J.T.'s passion for sports is apparent on-air as he Sounds OFF on everything from the players who play the games to the stories that surround them. Whether it's local or national, you can be sure that J.T.'s talking about it.
Join the conversation by getting interactive with the radio show:
Tweet Me -
@JTSOUNDSOFF
24/7 Sports Talk at
http://facebook.com/TheSportsSoundOff
You can catch up on the latest Sports Sound Off on our Podcast !!!!
To listen and download the Sports Sound Off Broadcasts !!!